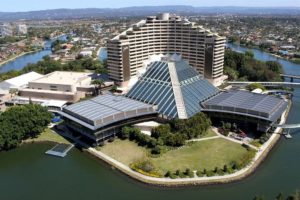 Despite the enormous popularity of online casinos, land-based casinos in Australia have certainly kept their appeal. Due to gambling's widespread popularity in Australia, land-based casinos are still an absolute favourite of Australian gamblers. Located on Australia's Gold Coast, in the heart of Broadbeach Island, Jupiters Casino is a land-based casino where glamour and sophistication meet with a vibrant and energetic casino atmosphere.
Jupiters Hotel & Casino Gold Coast is an entertainment centre in its own right, where you can go to relax and spend your holiday, visit the casino floor for an ultimate casino experience, and try the finest dining options on the Gold Coast.
Table games and gaming machines
At Jupiters Casino, you'll be swept away by the multitude of the most popular and beloved casino games in a refined and extravagant casino that is nothing short of breath-taking.
More than 70 table games and over 1,600 gaming machines await gamblers on the luxurious casino floor that has recently underwent a major transformation. The casino floor is lined up with the best and latest gaming machines. Exciting games and linked jackpots will make your gambling experience is an unforgettable one. Titles such as Golden Dollars, Double Shot, Lighting Cash, and Dinomight, as well as exclusive NSW products like Cash Express, Fa Fa Fa, and Players Choice-Superstar (I/II/III) are all available at Jupiters Casino.
Whatever your table game of choice, be it blackjack, roulette, baccarat, poker games, dice games, or other casino games, you'll find them at Jupiters Casino.
The casino also has three private gaming rooms (The Suite, The Sterling Suite, The Club) offered for certain high-roller members only (VIP members, Absolute Black Tier, Absolute Pearl and Higher members). Each gaming room is equipped with plenty of gaming options and come with certain perks such as 24-hour access, complimentary buffet and beverages, and of course privacy. Depending on each loyalty tier, casino members have access to exclusive deals and prizes, which are either cash prizes, car prizes, or other special prizes.
Bars and dining
If you want to take a break from gambling, you can check out one or all of Jupiters' five bars: J bar (located in the middle of the casino floor), Atrium bar, Sports bar, Kiomy bar, and the outdoor bar.
Jupiters Casino also has some of the best fine dining options on the Gold Coast including exquisite Japanese cuisine, Italian food, authentic Chinese food, seafood buffets, etc.
Jupiters Hotel
Located in the heart of seven acres of stunningly landscaped gardens, Jupiter Hotel's 596 guest rooms offer a breath-taking view of the Pacific Ocean and Gold Coast Hinterland. Luxuriously decorated and comfortable rooms await guest to unwind and take advantage of the hotel's many facilities (pool, pool-side cabanas and bungalows, fitness centre, etc.).
Jupiters Hotel and Casino is an excellent vacation destination for those who are looking to relax on pristine beaches during the day, and gamble or party late into the night. Experience the relaxed Gold Cost lifestyle and play your favourite gambling games in a real land-based casino. For another popular Australian casino read our review of Treasury casino.