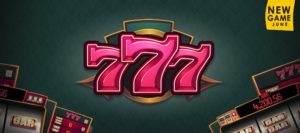 Most newcomers to online gambling head to straight for the Video Pokies and 3D Pokies. These are the most advanced and provide modern graphics and loads of features and bonuses. It is a symptom of our times that we are easily swayed by the "more is better" philosophy and forget that in life, it's the simplest of things that are most enjoyable. This lesson in supported at online casinos especially Fairgo where many of the most popular games are the Classic 3- Reel pokies such as the new 777.
What makes the new 777 Pokie so good?
Classic Pokies are still some of the most popular games at both online and land-based casinos. This is not to say that they are always in the top 5, but for a game which competes against technologically advanced and feature filled games, it is hard to believe that they are still popular. One way in which 777 pokie is popular is that it is a 19th century game on a 21st century platform
RTG or Real Time Gaming is one of the leaders in pokie development. Any time they introduce a new game, it is best to take notice and see what new product they have offered. With 777, the have offered some new features on an old game. Some of these features include:
| | | |
| --- | --- | --- |
| 3-Reels | Mobile and Instant Play | Bonus Rounds |
| Progressive Jackpot | Substitute Symbols | 1,680x Multiplier |
How does 777 slot machine compare to other Classic Slots?
Most 3-Reel Classic slots offer a bare bones experience. Although this is what makes them so popular, many times you would rather have something a bit more without the overloaded bells and whistles of a Video or 3D Pokie. Fair GO casino saw this demand and decided to introduce 777 with their choice of other online pokies.
The high-end graphics and sounds are just 2 of the benefits of this Real Time Gaming pokie. Another is the betting options which offer each player either Normal, High, or Super Bet. These features are offered in an easily to navigate screen which makes any kind of bet quick and easy. Unlike Video Pokies, you will not spend your time droning around trying to figure out the features and options and where the "bet" button is located.
As with all Pokies offered at Fairgo, 777 can be played in free demo play or real money mode. The Progressive Jackpot feature can only be played in real money mode which is a standard requirement for all Progressive Jackpot Pokies. Another new feature to this classic slot is the Free Spins and Multipliers. These simple but lucrative bonuses can turn even the most basic of wagers into big money wins.
Why is there not more Developers creating games such as 777 pokie?
Its easy to develop a Pokie that is chock-full of features, but its extremely difficult to create a 3-Reel classic pokie that offers some bonuses without making it just another bloated casino game. Players of these pokies are very particular as to what can make or break a classic slot, but it seems that RTG has created a winning combination of classic play and modern features. Just as in Goldilocks and the 3 Bears, this new classic game 777 is not too hot or too cold but is just right. Register at Fair GO online casino and see what all the hype is about for this new iteration of a classic casino game.