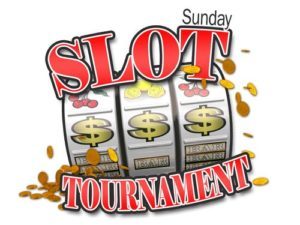 Like just about any other casino game offered, online casinos offer video slots tournaments for slot lovers to play in. These tournaments can either be a freeroll tournament, in which the initial price to enter the tournament is $0, or a buy-in tournament, where you have to pay an entry fee to play in the tournament.
With Freeroll tournaments, the point is to get people who normally don't play video slots to give them a try. I never thought I would like slots before, because I thought I would lose too much money playing them. But slot tournaments are different. Just like a poker tournament, every starts with a set amount of coins to gamble with.
In most freeroll tournaments, the casino will give you less coins at first because you are playing for free. But if you bust out, you can re-buy and receive more coins than you did in the first place. Usually, there will not be a limit to the amount of times you can re-buy, just realize that you won't win any more money for placing if you re-buy 20 times.
How do you Play Online Slot Tournaments?
When an online casino hosts a slot tournament, they will select a slot game, which is called the featured game. This is the video slot that everyone will be competing against each other.
Even though most slots allow you to choose from betting on one payline up to betting max or all paylines, you are going to want to bet max on most video slots. This is because there are too many symbols to only play between 1 and 5 paylines. The bonus round or free spins mode (on applicable video slot games that require you to hit the icons on a payline in order to win, which is a lot of them) will only hit on any payline an average of once every 100-200 spins. If you miss it, you miss out on a big chance to improve your score.
The object of an online slot tournament is simple, post the highest score on the leaderboard. You can go about this in many different ways, here are a few examples:
Slow and steady: Don't risk too much at first. Bet 1/50th or 1/100th of your coins per spin. Wait until your comfortable to enough to raise the coin amount based on when the paylines start to hit more frequently. Drop the coin amount down if you see 5 or more spins of no paylines hitting on a max bet.
Burn and churn (and re-buy a couple of times): this can be a winning strategy if it works, or you could be out a chunk of change if the video slots don't smile down upon you. This method involves betting one-tenth the total of your coins per spin. If you hit a early bonus or free spins round, it will be well worth it. If not, you'll be putting in more money and trying again (also known as I'm due syndrome).
Why Play at Online Slots Tournaments?
There are a lot of reasons why a player is enticed into playing at online slots tournaments.
For one, since slot games are solitary activities, tournaments are a fun way of playing your favorite sport with other players while, at the same time, competing against them for the grand jackpot. In short, online slots tournaments are perfect for those competitive players who want to test their luck against other players for the ultimate jackpot.
Two, it is fun to play unlimited slot rounds for a set amount of cash, which is the tournament fee. Three, the prizes are really great that it will really be worth your money and effort and time to join an online slots tournament.
Another big advantage of slots tournaments over playing the regular online slots is that you can't lose a large amount of money, unless you rebuy 20 times per tournament, but that's on you.
You can say to yourself, I feel lucky today and bet that max chip (usually 200 coins) three times and then say to yourself "Awe, I lost $10." Just think if you do hit on that max chip … instantly on the leaderboard. But, like I said before, you got to know when its just not your day. If you can say that and act on it, you will save yourself a lot of money gambling overall.
Joining Online Slots Tournaments
It is easy to join an online slot tourney. You first have to pick the casino you want to sign up with so as to join the online slots tournament. This includes checking out whether the casino accepts US residents if you are a resident of the United States.
Secondly, you need to download the slot game software provided by the casino before you register. Once done, you can choose the kind of tournament that you prefer, and there are many things to take into consideration before setting for one like entry fees (there are some free tourneys), rules of the tournament, and duration of the tournament. After this, you need to register for the tournament and wait for the contest to begin.
Also, be on the lookout for large slots tournaments. They happen at least once a month. If you end up winning one of these tournaments, or even placing in the top ten, you'll be set to keep playing for a long time.
Tips in Online Slots Tournaments
Here are some basic tips in online slots tournaments:
1. Do not take any breather between spins and just push the spin button as fast you possibly can, especially if the game is timed, but not too fast so as to give the online slot machine time to process the information given to it.
2. Just like in any other kind of tournament, it pays that you have a good rest the night before the day of the tournament. Plus, have a stress-free and alcohol-free tournament day to make yourself alert during the tourney.
Popular Pokie Games