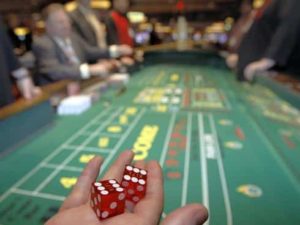 Craps is one of the most social and engaging games enjoyed online with hundreds of players all over the world and Australia. Take the right decision and play craps casino game only at the most reputed and trustworthy casinos to get best bonuses & offers while playing the game. We know very well that it is getting increasingly difficult to reach the most honest sites giving you a complete gaming experience.
The best casino game sites listed with us are the best in all terms, variety of craps games, excellent customer service and high payout percentages. We list only the most honest casinos. The main objective of this page is to offer a positive online craps gambling experience for you all the time, every time. Join any of the best casino craps game online tables here and have the greatest time of your life. Play with thousands of other craps player from across the world or play alone, you will always have a fabulous time here.
While feeling secure and safe, gambling at the casino game tables here, you will be nightly pleased with the offers of some unbelievable bonuses. With higher and faster payouts, no one seems to complain. Excellent customer care team works round the clock to take care of all your issues if any. A wide choice in banking method lets you play in the currency of your choice and pick a payment method that you like. Serious players get too test strategies with minimum bankroll.
Brick and Mortar Casinos: Craps Etiquette
Craps is a game where everyone can be rooting for you. But if you misbehave, you will turn them all against you. If you don't want craps to live up to its name when you play it, follow our advice on craps etiquette below.
Craps Etiquette: Handle the dice correctly.
Never throw with both of your hands. And at no event try to put the dice out of sight while you are holding them. These moves are forbidden. You do not want to give the impression that you are replacing the dice with loaded ones.
Craps Etiquette: Do not throw your chips roughly at the dealer.
You should place your chips firmly on the table make clear what your wager is. It is offensive to the dealers and slows down the game as they go after the chips.
Craps Etiquette: Do not take so long to cast the dice.
Your hands aren't magical. No fiddling would make a number more likely to roll than any other. Give it a good hold, shake it and roll. Period.
Craps Etiquette: Throw the dice but not too hard.
If you hurl the dice too hard or too long, it will bounce off the table and the toss is spoiled. Take it easy as giving hard throws doesn't help you win more. It only slows down the game and annoys both fellow players and the dealers.
Craps Etiquette: Do not bet when the shooter is already holding the dice.
After a throw and the stickman announces the roll, and the dealer pays out bets, you can make your wagers for the next roll. But do this quickly and not after the stickman has handed the dice back to the shooter. This is a late bet and nobody likes it. If you throw your chips in when the earlier bets are already there, they might scatter the other bets already there. A no bet would be called and it would really annoy everyone if it was a favorable roll.
Craps Etiquette: Be courteous toward the dealers and other casino employees.
If you need to ask a question, don't be afraid to do so. But treat these people with courtesy. They are working so you can have fun. And if you are on a roll, don't forget to tip them.
Craps Etiquette: Show class in the casino.
You don't have to be a high roller or a James Bond to be a class act. Treat your fellow players with respect. Be friendly and encouraging toward the shooter. And show consideration for the dealers. Keep your cocktail and cigarettes to yourself and not on the table. This will make you well-liked by everyone. You are more likely to get good advice from both players and dealers this way.
Playing Tips and Advises for Craps Players
Craps is an exciting game of chance and there are some tips and advises for craps players to perform their best in the game. Though no one can truly affect any outcome of a craps game, players can adopt some of these playing tips to avoid repeating the errors that poor players make.
Be a disciplined and smart craps player.
Players must set a limit as to how much they are going to win and how much are they willing to lose. Gambling experts agreed that players leave the game at an average amount of 20%. Be not too ambitious in setting your limits and set goals that are modest enough.
Many disappointments in gambling are cause by inexperience. Understand first the game of craps before risking your money. You can be a smart craps player if you are well prepared and well trained.
Learn to manage your money as well as your bankroll.
To be a successful craps player, applying an effective money management system is very important. Whether the system is among the popular ones or something that you just created, it is best if you won't change tactics in the middle of a craps game. Even if you are doing good or poor in craps, always remember your limits and stick to them. Because once you exceeded your limit, you will definitely regret it in the long run.
Learn to choose the correct craps bets.
This is an essential skill to be a good craps player – to understand well what are the smart bets on the craps table. There are only few craps bets that have a low house edge and you need to be familiar as to what these bets and their odds as well.
Generally, it is wise to cleave to the pass line bets and then backed up by the odds bet. The same with come bets backed up by the odds bet. Wagering on the six or eight on the place bets is also a good move. Learning to hedge your bet can also be beneficial when it comes to the more complicated craps bets, but always keep in mind that there is no perfect craps strategy.
It is very important to stay cool and calm all the time.
Like all games that are very competitive, having a cool head is necessary that you may be able to cope with the pressure of the game of craps. Don't ever raise your betting unit until you are sure that you are truly ahead of everyone by a very large margin. If this is not the case, trying to double your craps bankroll is not bad enough.